Sandi Hilal and Alessandro Petti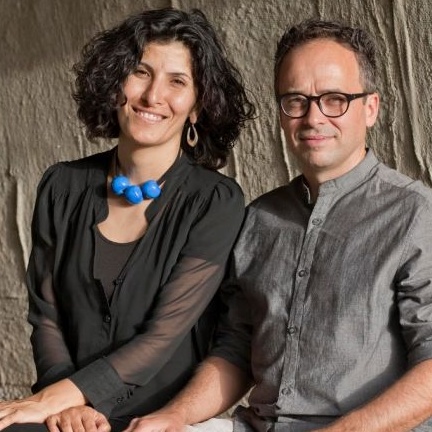 DAAR is an architectural studio and art residency programme based in Beit Sahour, Palestine. DAAR's work combines conceptual speculations and pragmatic spatial interventions, discourse and collective learning. DAAR explores possibilities for the reuse, subversion and profanation of actual structures of domination: from evacuated military bases to the transformation of refugee camps, from uncompleted governmental structures to the remains of destroyed villages.
In the last ten years, from Palestine, Sandi Hilal and Alessandro Petti have developed a research-project based artistic practice that is both theoretically ambitious and practically engaged in the struggle for justice and equality. They founded Campus in Camps, an experimental educational program hosted in Dheisheh Refugee Camp in Bethlehem with the aims to overcome conventional educational structures by creating a space for critical and grounded knowledge production connected to greater transformations and the democratization of society. Campus in Camps has today offshoot in other Palestinian camps and is linked in a consortium with universities around the world. In 2007 with Eyal Weizman they founded DAAR (Decolonizing Architecture Art Residency) in Beit Sahour, Palestine, with the aim to combine an architectural studio and an art residency able to gathered together architects, artists, activists, urbanists, film-makers, and curators to work collectively on the subjects of politics and architecture.
In 2018, Sandi Hilal and Alessandro Petti published their newest book, Permanent Temporariness. Since their first work and throughout their more recent architectural interventions in refugee camps, the artistic practice of Sandi Hilal and Alessandro Petti has explored and acted within and against the condition of permanent temporariness that permeates contemporary forms of life. In their ambitious research and project-based practice, art exhibitions are both sites of display and sites of action that spill over into other contexts: built architectural structures, the shaping of critical learning environments, interventions that challenge dominant collective narratives, the production of new political imaginations, the re-definition of words, and the formation of civic spaces. This book is organized around fourteen concepts that activate seventeen different projects. Each project is the result of a larger process of collaboration and is accompanied by individual and collective texts and interviews that contextualize and expand the reach of every intervention.