Sabrina Lindemann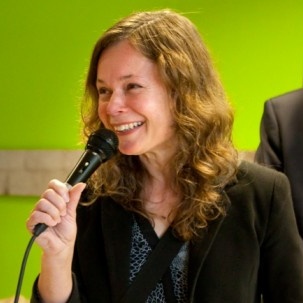 Sabrina Lindemann is artist/urban curator and projectleader of the mobile project agency OpTrek, a cultural laboratory for interactions and research in urban transformation areas.

OpTrek initiates and realizes projects in public spaces such as the controversial Hotel Transvaal*-*****, verblijf in de Tussentijd, of which Lindemann was the driver and developer. In addition, OpTrek offers a platform for research, concept development and experimentation in the field of urban transformation, often in multidisciplinary collaborations such as, for example, the think tank Laboratory for the Intermediate Period, which she developed with architect/publicist Iris Schutten. Since 2011, Mobile project agency OpTrek has been working as I'M BINCK on organic area development in the Binckhorst, a 130-hectare inner-city business park in The Hague. With its projects, OpTrek expresses reservations about the usual way of urban development and the consequences for residents, neighborhoods and cities. With its specific approach, OpTrek offers sustainable design solutions that strengthen economic and socio-cultural structures in neighborhoods and areas. Lindemann is co-founder of the national knowledge platform Tussentijd in Ontwikkeling: innovative reuse for the built environment.

Sabrina will participate in the break-out session CityLab: a local action or an international movement? (EN) of the day conference Common Ground on June 19.