Cecilia Raspanti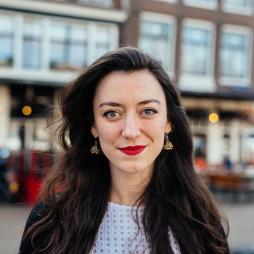 Cecilia Raspanti works as designer at Waag. She is involved in both Fablab Amsterdam and TextileLab Amsterdam. She is a fashion/textile designer and digital fabrication expert, born in the Netherlands, who grew up in Italy. There she studied fashion design and knitwear at the Polimoda fashion Institute in Florence.
At the beginning of 2013 she started visiting the Fablab Amsterdam where she got in contact with digital fabrication and started investigating in the appliance of technology and digital fabrication to textile manipulation. Since she started her research project in Fablab Amsterdam in 2013, she started her own label, Ceciilya, and her main interest consists in creating digital translations of old craft techniques to create new fashionable and innovative materials.
Experienced in fashion production and prototyping, she is now researching and translating small production processes into digital fabrication innovative options. Always inspired by nature, her latest collection was based on invertebrates and small living organisms, in which decorative patterns become structural elements of the garments.